Meet the Clifton Dental Associates in Clifton, NJ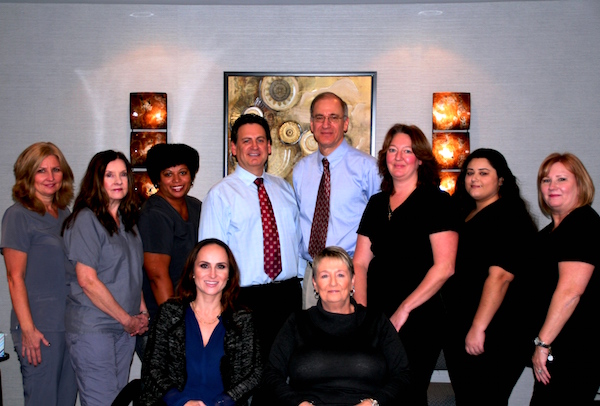 We recognize that all our patients are unique and deserve to receive dental care that reflects their individual needs. Our experienced and talented dental team is committed to working with you and your family to create a comfortable, stress-free, and rewarding dental experience every time you visit our practice.
We are pleased to welcome you and your family, and we look forward to working with you.
Whatever your dental problem, Clifton Dental Associates can be your solution for a lifetime! Call our Clifton, NJ dental office today!
Lorraine
Lorraine is a native of Clifton and has been with the front office of Clifton Dental Associates for more than 20 years. She is a graduate of Pope Pius XII HS in Passaic, and a graduate of Sawyer Business School in Clifton. Her favorite part of working for Dr. Kayne and Dr. Tuckman is to see the satisfaction that patients get from the professionalism and expertise that both doctors share with all patients. She loves spending time with friends, family, and co-workers.
Lara
Lara has been with Clifton Dental Associates since 2005. She graduated from California State University, Northridge with a bachelor's degree in psychology. She also completed dental assisting school in her native California. Lara strives to make sure our office provides each patient with the individualized care and concern we would give to a family member. Lara enjoys traveling and spending time with her friends and family.
Cookie
Cookie has been working as a registered dental assistant for more than 16 years. She has worked alongside Dr. Kayne for the past five. She enjoys seeing all the new technology that has emerged over the years in the field of dentistry. Cookie grew up in Passaic, where she resides with her husband and their two very active boys. They enjoy camping and spending time at the beach.
Karen
Karen has been with Clifton Dental Associates since 2004. She graduated from the University of Texas with an associate's degree in business. Her experience in the financial and insurance arenas help our patients understand and afford the treatment they need and want. Karen enjoys traveling and spending time with her family.
Zelda
Zelda has been a dental assistant for roughly 25 years. She has worked chairside with Dr. Tuckman for at least 20. She holds a license as a registered dental assistant and is CPR certified. She enjoys spending time with her three grandsons, boating, traveling, and the beach. She resides locally.
Marcie
Marcie has been working as a dental assistant at Clifton Dental Associates for more than 20 years. She works chairside with our in-office specialists as well as with both doctors Kayne and Tuckman. She loves spending time with her family and friends. She loves the New York Jets!!!
Janet
Dental Hygienist
It is my goal as a dental hygienist to meet the oral health needs of patients by assessing their oral health conditions, taking radiographs, cleaning their teeth, applying preventive materials, and educating them on homecare and proper nutrition. I began my career in dentistry more than 35 years ago, and it was my pleasure to join the excellent team at Clifton Dental Associates in 2011. My patients can trust in my dedication to make them feel comfortable and my ability to take care of their oral hygiene needs with a gentle hand. The relationships I've built with our patients and my team members are what truly make me smile.
I have been blessed with four children and two grandchildren who light up my life. I currently reside in Monroe, NY with my two dogs. Cooking, entertaining, decorating, and traveling are some of my hobbies, and I recently began learning mixed martial arts!
Linda
Dental Hygienist
I have spent the past 25 years—almost my entire career—at Clifton Dental Associates, caring for the health and well-being of our wonderful patients by providing gentle hygiene care. Our team sincerely cares about providing the level of treatment to make smiles beautiful and healthy. I love my job for many reasons, but especially because I get to meet and interact with so many people every day. Life is all about who you meet along the way and what you learn from it!
When I'm not working, my husband Bob and I love to explore different destinations, and eat and drink our way to new experiences in different cities and countries. I also love volunteering with cancer walks, blood donations, environmental cleanups, and helping out our local community.
Vasilika
Dental Hygienist
I earned my degree in dental hygiene in 2011 and joined Clifton Dental Associates two years later. In addition to helping my patients achieve clean mouths in the office, I also provide education on how to maintain healthy gums and teeth at home. The connections and friendships I've made with our patients and the people with whom I work really mean a lot to me. We have a great team: people who really love helping others and making our office a fun environment. Our doctors are very knowledgeable, and I trust their judgment and passion for putting our patients' needs first.